H.20 - Hunter in action
H.20 is the Airoh urban jet helmet that emphasizes the pleasure of riding both in the city and in the countryside.
It has a modern and aerodynamic design completed with a long jet visor that guarantees an extra wide vision, allowing the rider to appreciate, even more, every single meter of the journey, even of your daily commute.

In addition, the visor is Pinlock Ready and it's available in the clear version but also in the following special ones: light smoke, dark smoke, silver mirrored, blue mirrored and iridium mirrored. These special visors can be matched with the helmet colors, that are: color black matt, color white gloss, color blue matt and color dark grey matt; so you can be always able to express your own style, without limits.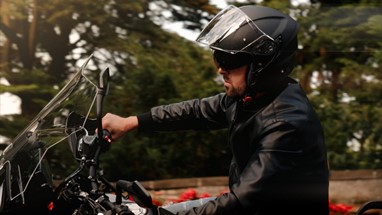 To guarantee a comfortable fit, the outer shell is in HPC and it has three different sizes to best adapt to multiple cranial compliances, this helmet is therefore available in 8 different sizes, from an head circumference of 53 cm up to 64 cm.
It is an extremely resistant and ultralight helmet thanks to the state-of- the-art material employed, its innovative features are completed with a cutting-edge ventilation system and an integrated sun screen visor.
H.20 is the perfect travel companion, it's always ready, whatever adventure you have to face.
---
Mais