2022 Rally Dakar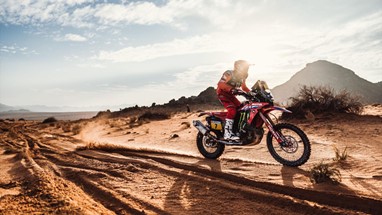 1st– 14thof January of 2022, all the fans eyes are on a race as fascinating as dangerous, the world's most famous rally, the 44thedition of the Dakar Rally.
Airoh participated many times in this competition and many riders with the legendary Aviator have already conquered the podium of this adventurous desert challenge several times.
Toady was races the final stage, riders came back on Gedda after 8.375km, 4.258 of which were special stages.
An emotional race rich in rush ended after witnessing the incredible performance of the Airohriders, able to conquer exceptional results. The just ended 2021 enriched the Airoh palmares, that on December had 110 world titles, the 2022 couldn't start better.
A really roaring start of the year thanks to the performance of great riders with really incredible careers, on which it's worth stopping.
Sam Sunderland has always stood out for his talent, just think that he appeared on the British motocross scene at the tender age of 7 and that, in his early twenties, he debuted in the Dakar Rally, winning it just 5 years later. These are just a few pieces of the British rider career that, once again, this year has given great emotions conquering exceptional results able to enrich both his palmares and the Airoh one.
Pablo Quintanilla is one of the most important rally riders of the Chile's history, he has always distinguished himself by his grit and determination, fundamental valves that allowed him to become, at age 15, the Chilean and South American motocross champion in the 85cc, and to debut in the Dakar Rally before turning 30. The Chilean rider has always done his utmost to achieve his goals, and this tenancy help him to make his career so incredible and noteworthy.
For the Airoh Family today is a very special day, conquer the first and the second steps of the podium of the 44thedition of the Dakar Rally is something that… leaves speechless!

Galeria de fotos
---
Mais